---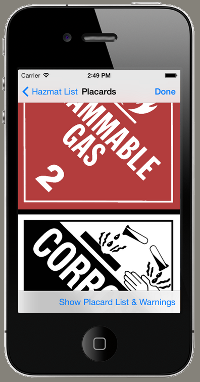 ---
---
IT managers are concerned with the implementation and maintenance costs with any new service. Placard Wizard is automated software with low overhead and minimal maintenance. Its web based software allows for global updates, and is secured by unique login credentials based on users or terminals.
Placard Wizard's development team can build a customized solution that meets your needs. We have been building and supporting compliant software since 2002. We develop for C# .Net, Java, iOS, and Android. If you don't see your platform or solution listed please Contact Us.
Placard Wizard is a software system that interprets the 49 CFR and gives a placard solution based on the class, weight and the UN number loaded. Placard Wizard technology goes beyond the usual charts. Having the least amount of placards on a trailer draws the least amount of attention from DOT inspectors. Placard Wizard always gives you the minimal amount of placards to comply with the 49 CFR. Placard Printing Solution helps reduce hazardous fines or risk of losing your hazardous license. Call us and implement the Placard Wizard solution in your operation.